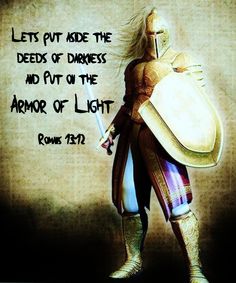 Read Romans 13:8-14
Romans 13:8 Owe no one anything, except to love each other, for the one who loves another has fulfilled the law.
Hello Family!
Have you ever watched little kids when they dress up and make believe? You kids did this yourself, and I've done it too! For instance girls, you would dress up in a magical little dress and we would then travel to a magical land with unicorns and castles. Boys, we would set up the train tracks going all through the house, and you guys would become train conductors.
This is what Paul tells us here in Romans. You are what you wear. In the English translations, however, it sounds as if we are the ones who have to bring about this loving to our neighbor. It sounds as if it is by our power and initiative that we serve our neighbor. But if this is really the meaning here, then how do we know when we have done it correctly? How do we know if we have done enough? Well, the answer is we can't and we don't.
But this isn't up to us as individuals. It all is centered in God and His power and His initiative. God, in the person of the Christ-child, has already fulfilled all the demands of His own law! He subjected Himself to His own standards and carried them all out to perfect satisfaction in Jesus.
In Baptism, each of you received a very special and priceless gift. You each received God's Holy Spirit when you were baptized into Jesus. That means you have Jesus, the Christ-child, dwelling within you through faith alone. And that's pretty cool because now God has changed your identity! You are a Christian! It's more than just a label we wear. It's a whole change in your person. You have a new identity. You are already and right now a new being. You are a new creation right now, as the Bible says (Galatians 6:15 and 2 Corinthians 5:17).
So, what's this mean for you? Well, this "loving one another" is no longer a command for the Christian where he or she has to make sure that they're doing something. Rather, it's Christ in you that's simply being lived out in the Christian's life. Why? Well, it's because Jesus lives in and through you by His indwelling Spirit.
Jesus is coming again for His final Advent. The time is closer than we think, and every person should think about this too. In the meantime, God says that we are to simply live in the Christmas clothes He has given to you. God has made you one of His dear and precious children in Baptism.
I love you guys! Dad